Desert Aikikai Grand Opening … a note of Gratitude, March 10, 2020

Thank you to everyone who was able to attend and support the official dojo Grand Opening amid travel restrictions and the current, increasing health concerns of our nation.

Thank you to Dennis Belt Shihan, Sensei Patricia Belt and Sensei John Brinsley for agreeing to teach at the seminar and providing us with such awesome classes. May we all continue to learn and grow from your teachings and words of wisdom.
A special thank you to those who ran errands, helped with registration, took photographs and video, provided snacks and chauffeur services---I am still overwhelmed by your generosity and kindness---thank you again from the bottom of my heart...without your help the success of the seminar would not have happened.
And lastly, to those who sent flowers, notes and cards of congratulations... your well wishes were received with love and happiness. I wish I could relay the joy you have given me in your beautiful and kind words.
I and the students of Desert Aikikai appreciate your continued support and willingness to travel and train with us! Please feel free to come and train with us again!
To those that traveled for the Grand Opening, I pray your journey home was safe and uneventful.
With Gratitude,
Gassho---
Suzanne Gonzales-Webb, Sensei
Desert Aikikai
Testing on May 1, 2021
Promotion Congratulations !!
Roy M (Desert Aikikai) - 5th KYU
Drew B (Summit Aikikai) - 4th KYU !
Great job!
A special Thank You to our ukes---
Nate, Katy and Brian for your amazing energy throughout the test!




















Organic Training Circle (OTC), Fall Seminar
Hosted by Living Well Aikido, Oklahoma City, OK
October 8-11, 2021
Promotion Congratulations
Roy M - 4th KYU, Desert Aikikai
Chris H - 5th Kyu, Living Well Aikido
Kyra J - 5th Kyu, Living Well Aikido
Jennifer O - 5th Kyu, Living Well Aikido




































Deena Drake Sensei at Summit Aikikai
Salt Lake City, UT
September 17-19, 2021
Promotion Congratulations
Elizabeth - 5th Kyu, Summit Aikikai.
Brendan - 5th Kyu, Summit Aikikai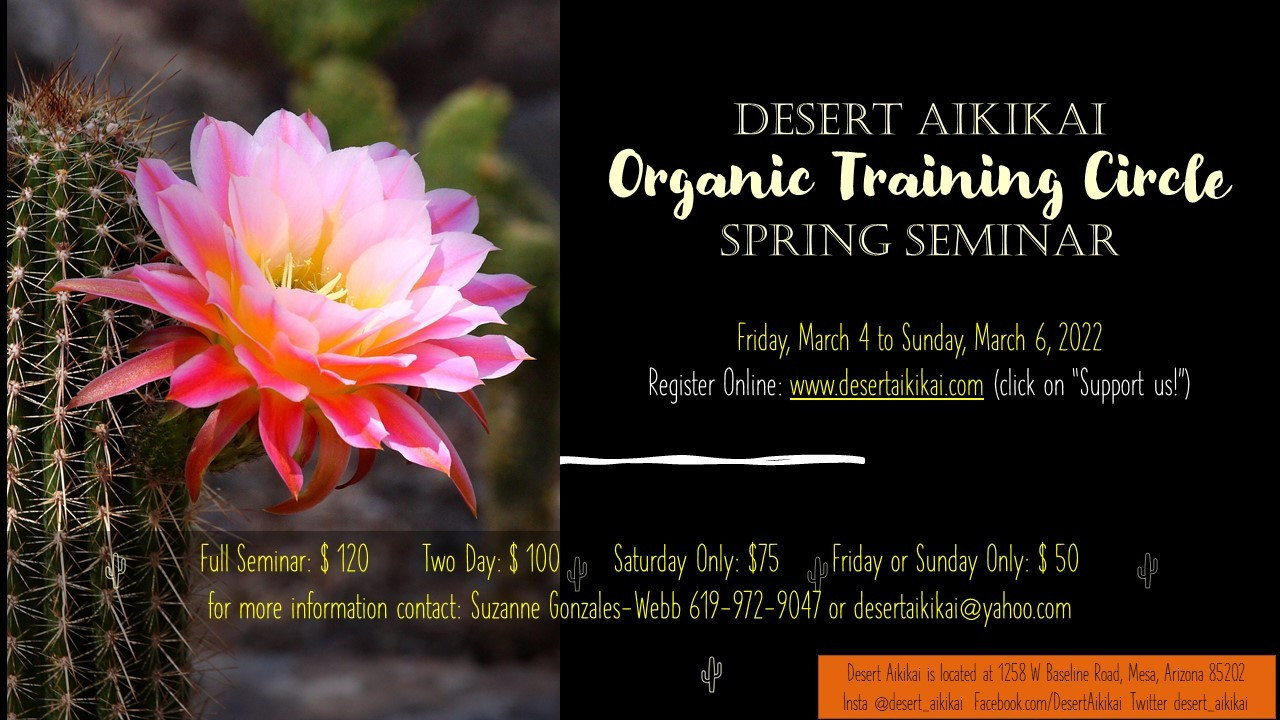 Upcoming Events. . . .
July 16th - Salt River Tubing

July 29 - 31st - Ea Murphy (Chief Instructor, Tacoma Aikikai) at San Diego Aikikai

August 13th - Salt River Tubing

October 8-9-10, 2022 - Aikido Seminar in Boulder City (Las Vegas), NV; dates to be confirmed
Organic Training Circle (OTC), Spring Seminar
Hosted by Desert Aikikai, Mesa, Arizona
March 4 - 6, 2022